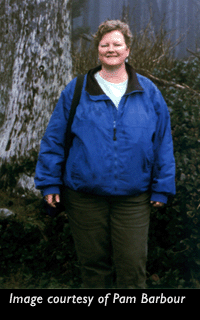 Lori Purk has been taking pictures since her childhood and is very passionate about photography and the natural world. During the last two decades, Lori has been an active leader in several photography-related organizations and has also enjoyed capturing all the beautiful places she has visited during her career as a travel agent. She has been selling and sharing her work with the public at fine art and craft shows and galleries in and around the St. Louis area since 2000.

Visit her calendar for information on where her work can currently be seen.


Lori's award winning photography has also been exhibited at the Shaw Nature Reserve, the St. Louis Artists' Guild, Powder Valley Nature Center, Runge Conservation Nature Center and William Woods University. Several of Lori's photographs were selected for a permanent educational display at the Great Rivers Museum in Alton, IL. The Missouri Governor's Mansion holds some of her work in their permanent art collection. She is represented by Mo'sart, Missouri Art Studio in Saint Genevieve, the Dunklin Street Gallery in Jefferson City, The Painted Daisy in Eureka and by photographic Gallery 20:08 on Cherokee St. in St. Louis. Lori opened her own gallery, Simpatico, an Art Gallery Co-op in Clarksville, MO in July of 2006.


Lori is a juried artist member of the Missouri Artisan's Association (www.bestofmissourihands.com) and is currently serving in the positions of the Membership Co-chair and Board Member. She recently retired from her positions of Newsletter Editor, Vice President and Board Member for the Missouri Nature and Environmental Photographers (www.monep.org). Lori is also a member of the North American Nature Photography Association (www.nanpa.org).


The simple, yet fascinating and colorful, details found in nature are the focus of Lori's current work. She hopes to evoke an emotional response from her viewers and to help them "see" and "feel" the everyday beauty that can be easily overlooked in this fast paced world. It is her mission to convey her love of nature and to inspire others to value and protect our natural world through her photography. She is willing to educate anyone who is interested.